The general rule with house sitting is that the house sitter can use anything the owner leaves in the fridge. (unless expressly stated otherwise).
We love cooking (and eating!) and naturally tried Jenny's homemade SouthWest Spice Rub mix one night. We loved it so much that we ended up using the whole (big) bottle of spice during the month we stayed there!
When Jenny returned after their trip, we thanked her for the lovely mix and shared how we used it on everything.
While we were at the next house sit, 700 miles away in Georgia, a package arrived. Jenny sent us a batch of her spice mix and the recipe to share!
Give it a try and let us know if you like it!
Jenny's South Western Spice Mix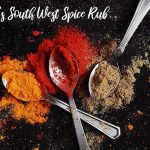 Print This
Ingredients
2 tablespoons Chilli Powder (Mild)
2 tablespoons Granulated Garlic (Powder)
2 tablespoons Paprika (Hungarian)
2 tablespoons Ground Coriander
2 tablespoons Kosher Salt
1 tablespoon Ground Cumin
1 tablespoon Ground Black Pepper
Instructions
Mix all the ingredients together and store it in an airtight container in your fridge